Baja Arizona no aguanta el racismo busca la secesión y quiere ser el 51º Estado de los EEUU.
Rumblings of secession are in the air down in Arizona as the differences and grievances between residents of Pima County and the state's capitol in Maricopa County continue to grow.
Dos proyectos de ley de los conservadores en Arizona buscan hacer caso omiso de la 14° enmienda de la Constitución de EE.UU. al negar la ciudadanía estadounidense a los hijos nacidos en los Estados Unidos de los inmigrantes indocumentados.
Esto sucintamente define la situación de los derechos humanos en Arizona.
Arizona es un lugar donde los legisladores conservadores no parecen conocer el significado de "derechos inalienables" – parecen empeñados en revocar no solo el siglo veinte, sino también el siglo diecinueve.
Los conservadores de Arizona parecen creer que si la mayoría de ellos está de acuerdo con cualquier cosa – incluyendo la negación de los derechos humanos fundamentales – juntan esos votos con la firma del gobernador, y eso constituye una ley!!!
Abogados de Arizona argumentan que la legislatura del Estado se ha vuelto demasiado conservadora y ahora están luchando por su propio Estado.
El Condado de Pima es tradicionalmente más liberal que el resto de Arizona.
La SOS, la organización Start Our State, está solicitando a otros condados unirse a su movimiento para constituir el 51º Estado de los EEUU: Baja Arizona
——————————————
.
Movimiento del Condado Pima busca la secesión de Arizona
10 de marzo 2011 por Andrew Moran
http://www.helium.com/items/2113998-pima-countys-movement-to-secede-from-arizona
Hace dos años, los Estados Unidos bullían después que el gobernador de Texas Rick Perry dijo en conversaciones privadas que el Estado de Texas tenía derecho a separarse de la Unión.
En 1861, 11 Estados se habían separado de la Unión, pero fueron reincorporados durante la era de la Reconstrucción de los Estados Unidos. Debido a los temores de un conservadurismo excesivo, un grupo de abogados del Condado de Pima quiere separarse del Estado de Arizona, de acuerdo con información del Arizona Daily Sun.
Los abogados argumentan que la legislatura del Estado se ha vuelto demasiado conservadora y ahora están luchando por su propio Estado. La organización, Start Our State (SOS), dice que el gobierno del Estado ha recortado fondos para la educación, implementado controvertidas leyes de inmigración, se ha vuelto demasiado extremista y ha abrazado la ley federal.
El Condado de Pima es tradicionalmente más liberal que el resto de Arizona. SOS está solicitando a otros condados unirse a su movimiento para constituir el 51 º estado de Baja Arizona.
"Queremos hacer un esfuerzo serio, al menos queremos enviar un mensaje a la capital del Estado, a Phoenix y también al país, nosotros queremos moderación en nuestro Estado", dijo el ex presidente del Partido Demócrata para el Condado de Pima, Pablo Eckerston. "La gente aquí esta al límite. El golpe final fue el decreto de nulificación que ahora está en el Senado … que francamente implica la secesión en nuestro país, queremos quedarnos en los Estados Unidos, queremos ser americanos "
No se trata sólo de la izquierda que está molesta por las acciones del gobierno de Arizona en los últimos tiempos. El ex presidente del Partido Libertario del Condado y tesorero de SOS, David Euchner, dijo que la legislación del Estado en materia de inmigración es el colmo, informó el diario Tucson Sentinel.
"Por mucho que no este de acuerdo con lo que Barack Obama ha hecho o lo que nuestro Congreso demócrata ha hecho en los dos últimos años, mucho más en desacuerdo estoy con lo que Russell Pearce y Jan Brewer han hecho a nuestro gobierno en el Estado", dijo Euchner.
Algunos funcionarios de Arizona consideran que el movimiento es dudoso y que, en realidad, los votantes nunca aceptaría dicha moción. El candidato republicano a la alcaldía de Tucson, Ron Asta, dijo que las áreas conservadoras de Tucson no votarían a favor de una secesión. "No creo que ellos estarán a favor de ella", dijo Astacio.
Si los votantes de Arizona apoyan la iniciativa, que tendría que ocurrir para que el Condado de Pima se convierta en el Estado 51? Eckerston, y el co-director Peter Hormel, están compitiendo por una resolución no vinculante en el balotaje de 2012, informa el Fox News. La medida se adoptaría antes de la legislatura estatal o de un referéndum a nivel estatal. Si se aprueba, subiría al Congreso y al Presidente.
"Al igual que Maine, que se separó de Massachusetts, queremos llegar a la legislatura para que nos dejen", dijo Eckerston, según ABC News. "Y entonces podemos solicitar al Congreso que nos acepten como un Estado."
www.blogforarizona.com/blog/2011/02/pearce-an…
Pinal County Greens: Pinal County Greens Support Severing Arizona … 24 Feb 2011 … Pinal County Greens Support Severing Arizona in Two, Creating New State of Baja Arizona. Meeting today, the Pinal County Greens passed a … pinalcountygreens.blogspot.com/…/pinal-county-greens-support-severing.html – En caché
Baja Arizona Flag Contest
Baja Arizona
will need a new flag.
Submit
your designs and ideas!
Read More…
——————————————————————–
Pima County's movement to secede from Arizona
March 10, 2011
Two years ago, the United States was abuzz after Texas Governor Rick Perry said in private conversation that the state of Texas had the right to secede from the Union. In 1861, 11 states had seceded from the Union, but were later brought back during the Reconstruction Era of the United States.
Due to fears of too much conservatism, a group of Arizona lawyers want Pima County to secede from the state of Arizona, according to the
Arizona Daily Sun. The lawyers argue that the state legislature has grown too conservative and are now fighting for their own state.
The organization, Start Our State (SOS), says that the state government has cut education funding, implemented controversial immigration laws, has become too extreme and has embraced federal law. Pima County is traditionally more liberal than the rest of the state.
SOS is now asking other counties to join their movement for the 51st state Baja Arizona.
"We want to make this a serious effort, at least to send a message up to Phoenix – a message to the country – that we want moderation in our state," said former Democratic Party Chairman for Pima County, Paul Eckerston. "People here are kind of at the breaking point. The final straw was the nullification bills going through the Senate right now … that are frankly secession from our country, and we down here want to stay in the United States – we want to be American."
It isn't just the left who is upset over the Arizona government's actions as of late. Former chairman of the county's Libertarian Party and SOS treasurer, David Euchner, said the state's immigration legislation was the last straw, reports the Tuscon Sentinel.
"As much as I disagree with what Barack Obama has done or what our Democratic Congress did the last two years, I much more strongly disagree with what Russell Pearce and Jan Brewer have done to our state government," said Euchner.
Some Arizona officials feel that the movement is dubious and that, in reality, voters would never accept such a motion. Tuscon Republican mayoral candidate, Ron Asta, said the conservative areas of Tuscon would not vote for a separation.
"I don't think they'll be in favor of it," said Asta. "There's a real strong conservative challenge."
If Arizona voters supported the initiative, though, what would have to occur for Pima County to become the 51st state? Eckerston, and co-chair Peter Hormel, are vying for a non-binding resolution on the 2012 ballot, reports Fox News. The measure would go before the state legislature or a statewide referendum. If approved, it would be up to the Congress and the President.
"Like Maine, which broke off from Massachusetts, we want to get the legislature to let us leave," said Eckerston, reports ABC News. "And then we can petition Congress to accept us as a state."

——————————————————————-
How Far Can Arizona Secede?
//

Where "Inalienable Rights" Have No Meaning
by Roberto Rodriquez / CounterPunch / February 9, 2011
February 10, 2011 – Jose Olivas holds a drawing of a baby as he protests against Arizona's Senate bill 1308 and 1309 outside Arizona's Capitol building in Phoenix, Arizona, 7 February 2011. The two bills seek to overrule the 14th amendment of the US constitution by denying American citizenship to children born in the United States to undocumented immigrants.
This succinctly defines the human rights situation in Arizona. Arizona is a place where conservative state lawmakers do not appear to know the meaning of: "inalienable rights" – seemingly hellbent on revoking not just the 20th, but also, the 19th centuries. They seem to believe that if a majority of them agree to anything – including the taking away of peoples' basic human rights – that their votes, along with their governor's signature, constitutes a law.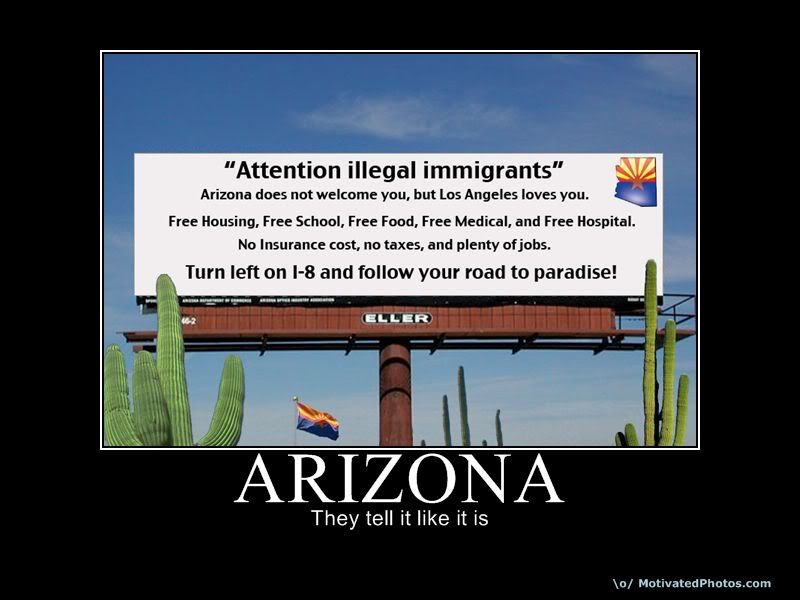 Cartel que evidencia el racismo y la xenofobia en su infame dimensión.
.
.

larebeldiadelosinmigrantes.blogspot.com/2010/…
.
Secession Supporters in Arizona County Say "Not Everybody in Arizona is Crazy"

04/05/2011 – Rumblings of secession are in the air down in Arizona as the differences and grievances between residents of Pima County and the state's capitol in Maricopa County continue to grow. To the north is the Republican stronghold of Maricopa, and the Republican-led state legislature has taken an activist approach according to those in the south residing in the more moderate Pima. So a proposal has been in the works to have Pima secede from the state of Arizona in order to become Baja Arizona. This "Start Our State" movement is being helmed by Tucson Democrat Paul Eckerstrom, who once served as the former Democratic Party chairman for Pima County. The long legal process for secession has already been initiated by Eckerstrom. The south has an older Hispanic community, a college town, and is true to its desert roots while the Maricopa area is far whiter, older, and conservative. The Economist reports on the following response to a bill introduced by State Senator Russell Pearce that would have allowed the state to nullify federal laws:
"But to people like Mr Eckerstrom in Pima County, the mere attempt to pass a 'nullification' law was too much to bear, suggesting that Maricopa, claiming to speak for Arizona, wants in effect to secede from America. Better, he thought, to secede instead from Maricopa. […] Many in Tucson roll their eyes when discussing the legislature's proposals to liberalise Arizona's gun laws, already lax, by allowing guns on university campuses. So secession is tempting. Mr Eckerstrom cites Maine, which split from Massachusetts in 1820 after years of trying."
Signatures are being collected for a non-binding initiative to go on local ballots in the state for 2012. And supporters believe they'll have no trouble collecting the signatures in Pima. If the legislature approves the secession, then the U.S. Congress would need to offer its approval as well. Some have pointed out that secession is not so much the point as a dramatic gesture to show that part of Arizona does not agree with the state's political direction and its dismissiveness toward federal laws, rules and executive orders. For more, see here. californiacitynews.typepad.com/california_cou…
.
.
-
.