Se desvía el Mississippi para salvar Nueva Orleans y Baton Rouge: inevitablemente miles serán inundados por la medida
Thousands of homes sacrificed to save New Orleans from Mississippi floods
Las compuertas de Morganza se abrieron por primera vez en 38 años para permitir desviar el agua del río Mississippi hacia la cuenca del Atchafalaya. Esta labor estuvo a cargo de los ingenieros del Ejército, quienes abrieron las puertas del aliviadero a lo largo del crecido río, a fin de evitar que llegue a Baton Rouge y Nueva Orleáns, pero enviando las inundaciones a casas y granjas en Luisiana.
Alrededor de 25.000 personas y 11.000 estructuras podrían estar en peligro tras quedar abierto el vertedero Morganza, por primera vez en 38 años. Alguaciles y guardias nacionales recorrieron de puerta en puerta para advertirle a la gente de esta inundación en la zona.
-----------------------------------
Miles de hogares sacrificados para salvar a Nueva Orleans de inundaciones del Mississippi
Apertura de compuerta protegerá Nueva Orleans y Baton Rouge, pero deja granjas, refinería de petróleo y refugio de vida silvestre en el camino de las inundaciones.
Los ingenieros del ejército abren las compuertas del dique/aliviadero Morganza para soltar aguas del desbordante Mississippi
Imagen de viviendas de problados del delta del río Mississipi que quedaron rodeadas de agua, tras desviar el gran río hacia la cuenca del Atchafalaya, una medida para evitar desastres.
.
Los ingenieros del ejército de EE.UU. han abierto una compuerta clave para impedir que el crecido río Mississippi destruya Nueva Orleans y la capital de Louisiana, Baton Rouge, pero ello implica inundar miles de casas y cultivos.
Los ingenieros abrieron una de las 125 compuertas del dique/aliviadero Morganza, ubicado a 45 millas al norte-oeste de Baton Rouge, el sábado 15 de mayo de 2011, liberando aguas del Mississippi en los campos cercanos. La medida, tomada por última vez en 1973, canalizará las aguas de inundación a las casas, granjas, un refugio de vida silvestre y una pequeña refinería de petróleo en la cuenca del río Atchafalaya para evitar inundar a las dos ciudades más grandes de Luisiana.
Semanas de intensas lluvias y las escorrentías de un invierno inusualmente nevado causaron una enorme crecida del Mississippi, inundando 1.2 millones de hectáreas de tierras de cultivo en Mississippi, Tennessee y Arkansas, a la manera de las inundaciones históricas en 1927 y 1937.
Podría tomar tres semanas desaguar el enorme flujo de agua a través de un sistema de diques y vertederos en el Golfo de México a unos 100 kilómetros al sur, según el mayor general Michael Walsh, presidente de la Comisión del Río Mississippi.
"Se está poniendo una tremenda presión en todo el sistema de la cuenca del Mississippi, ya que tratamos de canalizar esta gran cantidad de agua a través de otro río" dijo Walsh antes de que se abrieran las compuertas del dique/aliviadero Morganza.
Unos 3,000 km2 de tierra podrían ser inundados con hasta seis metros de agua durante varias semanas. Cuando los caudales alcancen máximos en torno al 22 de mayo, el vertedero conducirá unos 3.500 m3/s, aproximadamente una cuarta parte de su capacidad.
Alrededor de 2.500 personas viven en la ruta de desagüe, y otros 22.500, con 11.000 edificaciones, podrían verse afectadas por las inundaciones - el agua será empujada de nuevo en los arroyos y afluentes, abrumado el río Atchafalaya.
Unos 7.300 hectáreas de tierras de cultivo podrían inundarse a medida que aumentan las aguas, alcanzando máximos en aprox. una semana, que permanecerán por varias semanas antes de remitir.
"La tierra va a ser inundada, pero así es la vida", dijo Hurlin Dupre, quien representa a Krotz Springs en el consejo parroquial de San Landry. "Lo peor de todo es que estamos en una sequía (localmente hay sequía y ausencia de lluvias) y no podremos utilizar nada de esta agua".
Si hubiera fallado la apertura de la compuerta se habría puesto a Nueva Orleans en riesgo de inundaciones, que de acuerdo con los modelos de computadora, podría superar a la inundación padecida durante el huracán Katrina en 2005, cuando el 80% de la ciudad se inundó. Cerca de 1.500 personas murieron en el desastre.
Las inundaciones del Bajo Mississippi amenazan zonas densamente pobladas, hasta ocho refinerías y al menos una planta de energía nuclear a orillas del río.
Las refinerías representan aproximadamente el 12% de la capacidad del país para la producción de la gasolina y otros combustibles.
En la cuenca del río Atchafalaya, las autoridades fueron de puerta en puerta para comenzar evacuaciones en pequeños pueblos y parroquias de la ruta de inundación, donde se sufrirá la avenida del agua, que podría tardar semanas en llegar al Golfo de México.
El gobernador de Louisiana, Bobby Jindal, dijo el viernes que el Estado tenía planes con la Cruz Roja Americana para proporcionar refugios para los evacuados. "Estoy muy asustada", dijo Heidi Fangue, residente de Morganza. "Yo tengo mis maletas y estoy lista para salir."
Heidi Fangue, que vendía camisetas con la leyenda " Vertedero Morganza 2011 – la compuerta finalmente se abrió," dijo que iba a vivir con su madre en una furgoneta, ahora que las inundaciones comenzaron a deslizarse sobre el dique cercano.
En Morgan City, al sur, los trabajadores estaban reforzando los diques y colocando sacos de arena a lo largo del río Atchafalaya.
"Tendremos que estar atentos al factor fatiga, tanto en los diques como en la gente", dijo el alcalde de Morgan, Tim Mate. "Esto no tiene precedentes''.
El cuerpo de ingenieros del ejército dijo que la apertura gradual de las compuertas impedirá una subida súbita y peligrosa de las aguas. La empresa Alon EE.UU. Energy dijo que esperaba que su refinería en Krotz Springs estuviera rodeada por el agua en 10 a 14 días tras la apertura de la compuerta.
La refinería de Exxon Mobil en Baton Rouge, la segunda más grande del país, no cesará sus operaciones, pero el muelle del río Mississippi fue cerrado debido a la marea alta, dijo un portavoz de la planta.
---------
Opening a spillway
As floodwaters descend toward the Mississippi River delta, Corps engineers are considering opening a spillway that would divert water away from the downstream urban cities of Baton Rouge and New Orleans and relieve pressure on levees along the Mississippi.

.http://media.nola.com/weather_impact/photo/map2-morganza-051111jpg-0ad237fba02ef817.jpg
Thousands of homes sacrificed to save New Orleans from Mississippi floods
Opening of floodgate should also spare Louisiana's capital but leaves farms, oil refinery and wildlife refuge in path of deluge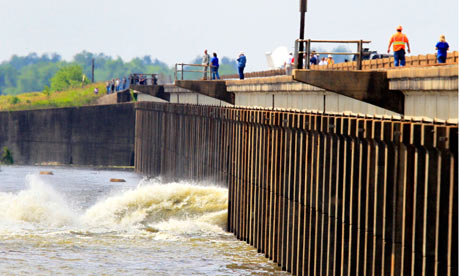 Army engineers open the floodgate to release water from the swollen Mississippi Photograph: Sean Gardner/REUTERS
US army engineers have opened a key floodgate to allow the swollen Mississippi river to flood thousands of homes and crops but spare New Orleans and Louisiana's capital, Baton Rouge.
The engineers opened one of the 125 floodgates at the Morganza Spillway, 45 miles north-west of Baton Rouge on Saturday, sending a flume of water on to nearby fields.
The move, last taken in 1973, will channel floodwaters towards homes, farms, a wildlife refuge and a small oil refinery in the Atchafalaya river basin to avoid inundating Louisiana's two largest cities.
Weeks of heavy rains and runoff from an unusually snowy winter caused the Mississippi to rise, flooding 1.2m hectares (3m acres) of farmland in Mississippi, Tennessee and Arkansas and evoking comparisons to historic floods in 1927 and 1937.
It could take three weeks for the enormous flow of water to pass through a system of levees and spillways to the Gulf of Mexico about 100 miles to the south, said Major General Michael Walsh, president of the Mississippi River Commission.
"It's putting tremendous pressure on the entire system as we try to work this amount of water through the Mississippi river tributaries," Walsh said before the floodgates opened.
Some 3,000 square miles of land could be inundated in up to six metres of water for several weeks. When flows peak around 22 May, the spillway will carry about 3,500 cubic metres per second, about one quarter of its capacity.
About 2,500 people live in the floodpath, and 22,500 others, with 11,000 buildings, could be affected by backwater flooding – the water pushed back into streams and tributaries that cannot flow normally into what will be an overwhelmed Atchafalaya river.
Some 7,300 hectares of farmland could be flooded as waters rise, peaking in about a week and remaining high for several weeks before subsiding.
"The land's going to wash away, but that's life," said Hurlin Dupre, who represents Krotz Springs on the St Landry parish council. "The worst of it is we are in a drought and we can't use none of that water."
Failing to open the floodgate would have put New Orleans at risk of flooding that, according to computer models, would eclipse that seen during Hurricane Katrina in 2005, when 80% of the city was flooded. About 1,500 people died in the disaster.
Lower Mississippi flooding threatened densely populated areas, up to eight refineries and at least one nuclear power plant alongside the river.
The refineries account for about 12% of the nation's capacity for making petrol and other fuels.
In the Atchafalaya river basin, authorities went door to door to begin evacuations in small towns and parishes in the path of the water, which could take weeks to reach the Gulf of Mexico.
Louisiana's governor, Bobby Jindal, said on Friday that the state had plans with the American Red Cross to provide shelters for evacuees. "I'm very scared," said Heidi Fangue, a Morganza resident. "I have my bags packed and ready to go."
Fangue, who was selling T-shirts that read "Morganza Spillway [floodgate] 2011 – Gates finally opened," said she would depart in her mother's camper van once floodwaters began to creep over the nearby levee.
In Morgan City to the south, workers were reinforcing levees and placing sandbags along the Atchafalaya river.
"The fatigue factor is something we'll have to watch for, both on the levees and on the people," said Morgan City mayor Tim Matte. "This is unprecedented.''
The army engineers corps said the gradual opening of the floodgate would prevent an immediate rush of water. Alon USA Energy said it expected its refinery in Krotz Springs to be surrounded by water within 10 to 14 days of the floodgate being opened.
Exxon Mobil's refinery in Baton Rouge, the nation's second largest, was not expected to cease operations, but its Mississippi river dock was shut owing to high water, a plant spokesman said.
---
Mississippi Flood update: Morganza Spillway opening imminent
Posted on May 13, 2011 | Filed Under: Floods & Floodplains , Small Streams & Wetlands , Clean Water
Shana Udvardy
Director, Flood Management Policy
---
The U.S. Army Corps of Engineers is poised to open the fourth and final major floodway on the Mississippi River to ease pressure on levees and save populated areas from record-breaking floods.
To begin relieving the flooding, the Bonnet Carré Spillway was opened on May 9th. But the opening of the Bonnet Carré is proving to be insufficient. With river flows registering at 1.36 million cubic feet per second, the Corps is saying it could open the Morganza Spillway.
If the Morganza remains closed, the rising Mississippi could likely destroy levees and inundate New Orleans with up to 25 feet of water.
Opening the Morganza Spillway does not come without cost. It is estimated that roughly 3 million acres will be impacted, which includes 18,000 acres of farmland, 2,500 people, and 11,000 structures. Additionally, in correspondence to President Barack Obama, Governor Jindal indicated that state-estimated costs post-Morganza opening to be at least $80 million in just the first 30 days.
As we grapple with the severity of the Mississippi River flooding, many are asking how we can better protect communities from floods in the future. Answering this truthfully means taking a hard look at the federal policies that have helped to incentivize an over-reliance on levees, dams, and floodwalls which has actually increased flood risk. We've lined the Mississippi River with levees and floodwalls, making flooding worse and pushing the problem to downstream communities. Looking to the future, we need to restore our "natural defenses" -- healthy rivers, wetlands, and floodplains that can help absorb and slow floodwaters.
As our board member Jeffrey F. Mount, geology professor at the University of California-Davis, was recently quoted by ABC in their article posted May 10:
"We have a system of federal regulations that are inadequate for dealing with the risk," said Jeffrey F. Mount, geology professor at the University of California-Davis. "The designation of the 100-year flood plain is in and of itself highly problematic. ... They made this simplistic line in the sand ... and in the end it increased overall risk."

"Additionally, the Federal Emergency Management Agency "underestimated how bad the floods are likely to be in the future," Mount said. "What we thought was based entirely on a historic record of flows and the assumption was made that the past is a predictor of the future. Now, what we're seeing over the last 20 to 30 years is that our storms are getting bigger and they're coming more often."
For additional flood inundation information:
http://www.abc.net.au/reslib/201105/r767285_6501162.jpg